LARGE ENGINE TRANSPORTERS
HEAVY LOAD HANDLING EQUIPMENT FOR MOVING LARGE ENGINES THROUGHOUT ENGINE ASSEMBLY. SOLVING HANDLES THE LARGEST ENGINES BUILT, FLOATING THEM ON AIR AND MANEUVERING THEM THROUGH MANUFACTURING AND SERVICE.
Solving takes the difficulty of moving and maneuvering engines during engine assembly, maintenance and service.

The Air Film Transporter, Model No. PTR-14, is used for transporting Diesel Engines between six engine assembly stations. A single detachable drive unit provides the power for moving the engine as the air bearings reduce the friction under the heavy load.

Umbilical Controlled SOLVING Air Film Transporter for handling Heavy and Large Diesel Engines. The engines are maneuvered on Solving air bearings from assembly through test.

(This engine weighs approx. 250 ton)
THE USE OF AIR FILM TECHNOLOGY BY LARGE DIESEL ENGINE MANUFACTURERS HAS INCREASED DURING THE PAST FEW YEARS. THIS IS BECAUSE AIR BEARINGS ALLOW MAXIMUM UTILIZATION OF THE PRODUCTION AND ASSEMBLY AREAS AND THE AIR BEARING SYSTEM CAN ALSO BE USED TO COMPLEMENT A CRANE BY MOVING ENGINES FROM ONE CRANE BAY TO ANOTHER. LOW PROFILE PLATFORMS CALLED AIR FILM TRANSPORTERS MOVE LARGE DIESEL ENGINES THROUGH ASSEMBLY.
The Worlds largest medium speed diesel engines
are moved through assembly on air!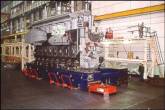 In the modern factory of Grandi Motori, Italy, transporting large diesel engines through assembly and test areas of the new Wärtsilä 64 diesel engine, will be carried out by air film transporters made by Solving Oy, Finland.
Wärtsilä 64 represents a new generation and is the World's largest medium speed four-stroke engine. The weight of the 20 V64 engine can be up to 580 tons. By means of a radio remote control system, one single operator can control and supervise the movement of these heavy engines with precision and safety.
ENGINE TRANSPORTERS
Solving air film transporters are already being used by Wärtsilä NSD and Cummins in a number of their diesel engine assembly production facilities.
| | | | | |
| --- | --- | --- | --- | --- |
| | | | | |
| Radio-Controlled Air Film Transporter move heavy engines through assembly and test. | | Custom Air Pallets create flexible manufacturing in any assembly plant. | | Air Casters allow Aircraft engines to be maneuvered during maintenance. |
PRODUCTION MANUFACTURING SOLUTIONS FOR ENGINE ASSEMBLY:
Solving has many assembly line air film transporters handling diesel engines. The major advantage of using air is to maneuver diesel engines to be turned and accurately positioned omni-directionally at the various assembly stations, and to allow a single engine to be taken out of the production line if necessary.
Many air film transporters are used in diesel engine assembly. Today engine blocks are transported on air bearings to the washing and machining cells, and finished engines are also moved out of the production facility on air casters.
At the Cummins plant in the UK and the Wärtsilä factory in France, engines are moved along production lines on remote controlled Solving air film transporters. In the washing and painting areas railed Solving transporters are used.
Visit these other pages for assembly tools to compliment engine transporters;
Heavy Duty Scissor Lift Tables • Air Casters • Industrial Turntables
Heavy Load Transporters • Ergonomic Equipment
ENGINE TRANSPORTERS FOR DIESEL ENGINE ASSEMBLY
---
AMERICAN SOLVING INC
6519 EASTLAND PLAZA • BROOK PARK, OHIO (USA) 44142
PH. 440-234-7373 • PH. 800-822-2285 • FAX 440-234-9112
e-mail: sales@solvinginc.com