AMERICAN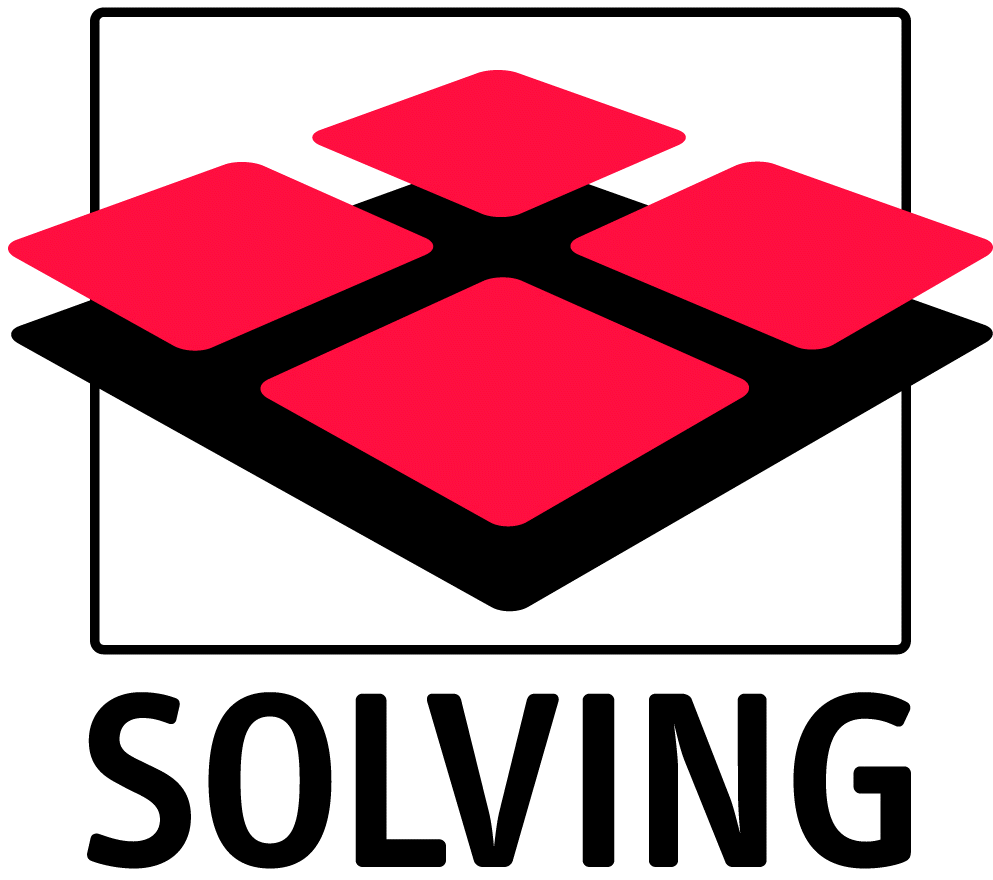 6519 Eastland Plaza
Brook Park, OH 44142
PH. 800-822-2285
E-Mail: Sales@SolvingInc.com
PRODUCTS:
How they work!
APPLICATIONS:
REQUEST INFO:
All Contact Info
PH. 1-800-822-2285
FOR SALES: sales@solvinginc.com
AIR CASTERS
Air Film Technology
Air Casters for Heavy Load Handling on a bearing of air. The latest on Air Film Technology in the Material Handling Industry. Replacement Air Casters, Rentals, rigging equipment and Air Film Systems. Also Wheeled vehicles with omni-directional steering for handling heavy loads.
"Float Heavy
Loads on Air"
AIR FILM TRANSPORTERS
AIR BEARING PLATFORM TRANSPORTERS THAT FLOAT ON AIR
What's Your Application?

SOLVING'S Air Film technology is used in various industries for handling and moving Heavy Loads, such as Paper Rolls, Diesel Engines, Transformers, Nuclear Waste and other Heavy Loads as well as to enhance Ergonomic Equipment and to increase the capacity of Automated Guided Vehicles. For more information on these applications, visit the links on the navigation bar on the left.

TYPICAL AIR FILM TRANSPORTER

Air Film Transporters consist of a load carrying steel frame, Four or more Air Bearings and optional Drive Unit(s)
GENERAL DESCRIPTION
Air Film Transporters from SOLVING can be adapted to suit most applications as it is built up from standard units. Air Film Transporters are of a low profile design and it is small and light in relation to its loading capacity. Maintenance requirements are low as the transporter has few moving parts.
Four Air Bearings, or more, are mounted under a load carrying structure. The transporter frame is built up from welded structural tubing covered by a checkered plate.
The control is performed from a panel, on the transporter, where all regulators are clearly identified by symbols. All pneumatic components are mounted in a control unit easily accessible when the cover is opened. Hand held controls are also available, from umbilical attached pendants to remote (wire-less) units and/or fully automated PLC-controlled devices.
The drive unit (optional) is mounted under the load carrying frame and is built up of four main parts. Drive units come in many different steering capabilities and can even pivot to drive the transporter straight sideways. External drive units are also available, which helps keep the transporter to an even lower profile or allows the operator to disconnect it and use it over multiple load carrying frames. Mostly pneumatic, Drive units are also offered in electric powered and can be equipped with automatic tracking software or laser guidance.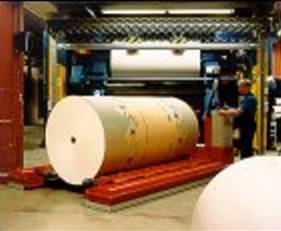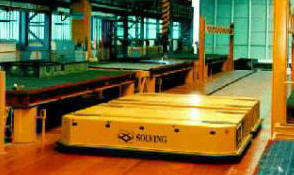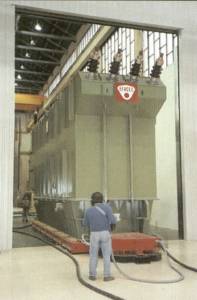 View

SOLVING's Air Film Transporters in Industrial Applications by visiting our Applications Links on the tool bar to the left.

Solvings Air Bearings have the highest carrying capacity in the world!
---
AMERICAN SOLVING INC
6519 EASTLAND PLAZA • BROOK PARK, OHIO (USA) 44142
PH. 440-234-7373 • PH. 800-822-2285 • FAX 440-234-9112
e-mail: sales@solvinginc.com