ERGONOMIC PRODUCTION TOOLS
AIR CASTERS AND ERGONOMIC
EQUIPMENT GO HAND & HAND!
Standard Lift Tables and Turn Tables have been improved when interfaced with air film technology (Air Bearings & Air Casters). The Air Casters have made lift tables more mobile, while turn tables have benefited by the reduction in friction when rotated on a thin bearing of air. The following applications are just a few examples of material handling solutions when using SOLVING air bearings. Contact us for an ergonomic equipment solution.
Air bearing turntable with two tilt tables are standard ergonomic equipment among the automotive industry. The Air Bearing Turntable can be easily rotated and indexed by hand.

Mobile scissor lift with omni-directional positioning on air casters. This piece of ergonomic equipment can be found not only in the paper industry but throughout assembly manufacturing.

Although this turn table looks like a display turntable, it really is a precise positioning piece of testing equipment. This powered Turn table is automatically controlled by a PLC.

Solving takes conventional hydraulic scissor lift tables and equips them with an air pallet base, creating ergonomic equipment that can position a load vertically yet be much easier to move than a lift table on casters. Once the air casters are de-energized, the lift table rests on landing pads for a positive stop during load / unload and assembly. The Air casters provide a separate means of ergonomics by making the mobile lift table easier to move, and saves on the back by raising the load at an ergonomic height.

American Solving Inc is not just a supplier of Hydraulic scissor lift tables and turn tables, but specialize in Air Bearing Turntables, Mobile Lift Tables and Air Pallets. Experts at Air Film Technology, we supply most turn table manufactures with the air casters necessary to manufacture air bearing turn tables. Using conventional Scissor Lift Tables, we provide the know-how to incorporate an air pallet base, making the mobility of lift tables omni-directional, including rotating the units 360-degrees in their own footprint. American Solving can implement all control functions of the vertical lift and actuation of the air bearings themselves into one easy to use hand held controller.

Air Pallets are our specialty - take a minute and look at our Powered Transporters page, and information on our own brand of air casters.
---
MANUALLY MOVE HEAVY LOADS ON AIR CASTERS
| | |
| --- | --- |
| Solving Air Casters are a great rigging tool for moving heavy machinery or just about any load. Packaged in a four-module system, we offer a standard tool called a "RIG SET". A Rig Set consist of four air bearing load modules, Interconnecting lines and a control box to regulate each station individually to balance out off-set and uneven loads. | |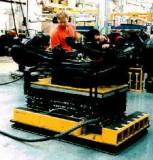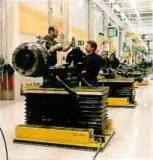 Standard ergonomic lift tables fitted with an air pallet base
are easily converted into simple but exceptional ergonomic work cell tools.
AIR BEARING TURN TABLE ADVANTAGES
Air Bearing Turntables have advantages over conventional mechanical turntables. Not only are they easier to rotate, but when in the off position they come to a positive rest requiring no brake and can be supported at rest for transfers off and onto the table from the side, such as pit-mounted designs for conveyor lines.
Buy your Air Bearing Turntables from Air Bearing Manufactures such as SOLVING, not just any run of the mill fabrication house.
---
AMERICAN SOLVING INC
6511 EASTLAND PLAZA • BROOK PARK, OHIO (USA) 44142
PH. 440-234-7373 • PH. 800-822-2285 • FAX 440-234-9112
e-mail: sales@solvinginc.com