AMERICAN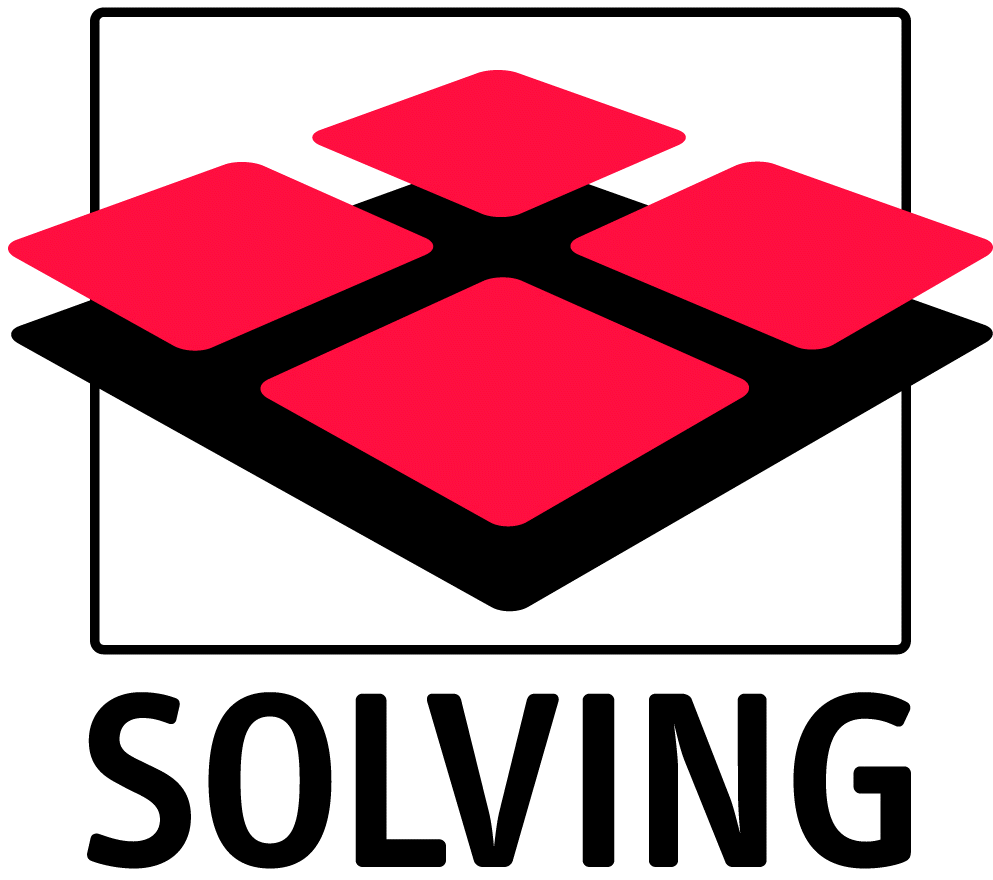 6519 Eastland Plaza
Brook Park, OH 44142
PH. 800-822-2285
E-Mail: Sales@SolvingInc.com
PRODUCTS:
How they work!
APPLICATIONS:
REQUEST INFO:
All Contact Info
PH. 1-800-822-2285
FOR SALES: sales@solvinginc.com
AIR CASTERS
Air Film Technology
Air Casters for Heavy Load Handling on a bearing of air. The latest on Air Film Technology in the Material Handling Industry. Replacement Air Casters, Rentals, rigging equipment and Air Film Systems. Also Wheeled vehicles with omni-directional steering for handling heavy loads.
"Float Heavy
Loads on Air"
Industrial Turn Tables
Specialize in Air Bearing Turntables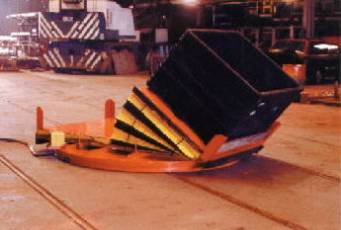 Ergonomic Industrial Turntable with Tilt Positions
Designed for the high production of the automobile industry, these industrial turntables are equipped with two tilt tables to ergonomically tilt the container bins toward the worker, while the second tilt table is collapsed and exposed to the isle for loading/unloading of fork truck. The goal here was to always have the product waiting on the assembly worker and never have the worker waiting on the product. The assembler/operator simply lowers the bin, rotates the turntable, manual or power assisted, and tilts the awaiting bin to a comfortable angle. Foot pedal or hand pendant controlled.
Also available as an Air Bearing Turn Table.
| | |
| --- | --- |
| | |
| PIT-MOUNTED | CONVEYOR TOP |
Pit-mounted industrial turntables are desired for low height applications involving loading the unit by conveyor or driven upon. The unit pictured left, turning the excavator, includes a "pit-ring" that protects the concrete curb surface and also adds support to the edge of the turntable when driven on. Air bearing turn tables work great in floor level applications since the air bearings provide about an inch of lift, establishing clearance during rotation and positive stop & support during loading/unloading. Most air bearing turntables can be manually rotated. Air bearing turn tables are supported underneath and can be driven upon when not in use. Once the air bearing turntable is energized, it lifts approximately 3/4" and the top plate and load can be easily rotated on a thin film of air.
TURN TABLES

FOR INDUSTRIAL

OR RESIDENTIAL USE

We have developed several residential turntables for rotating vehicles in driveways. The unit above was one of 2 built for an industrial application and has the capability of being remote controlled and rotated 360°, positioning within ± 1/2° of accuracy. Also available with air casters.

INDUSTRIAL TURNTABLES

OF ALL SIZES

From 48-inch to 48-foot

Square, Rectangular or Round Top Plates.

Unlimited Capacities.

Heights from 4" and up.

Foot, Hand, Remote or Automated Controlled.

Manual, Electric, Pneumatic and/or Hydraulic actuated.

Custom solutions using Standard Designs.

AIR FILM CAROUSEL

Capacity: 650 ton

Diameter: 14000 mm

At ABB Norsk Kabel A/S in Norway, three Solving air film carousels are used for the manufacture of umbilicals. With the use of air bearings, the plants floor loading was reduced, resulting in large savings in building cost .
---
AMERICAN SOLVING INC
6519 EASTLAND PLAZA • BROOK PARK, OHIO (USA) 44142
PH. 440-234-7373 • PH. 800-822-2285 • FAX 440-234-9112
e-mail: sales@solvinginc.com