AIR PALLETS
CUSTOM AIR PALLETS FOR ASSEMBLY LINE MANUFACTURING
---
SOLVING takes components such as Solving Drive Units, Solving Air Bearings and International Pneumatic logic and design's custom transporters, or Air Pallets using standard components to provide simple material handling transporters to handle the oddest shaped assemblies. The Air Pallets with omni-directional movement and a track-less assembly line provide flexibility in any manufacturing process.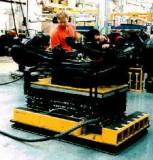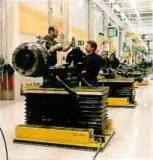 Standard ergonomic lift tables fitted with air bearings to create an air pallet base,
and are easily converted into simple but exceptional work cell tools.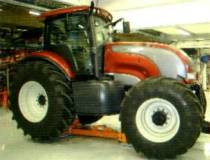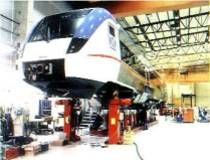 Ever changing designs or assembly lines are met with flexible systems
that require no tracks in the floor and sideways movement & positioning on Solvings Air Bearings.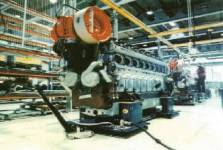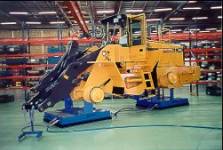 Solving's Air Bearings (also known as Air Casters) are fitted into a base that is usually smaller than the footprint of the load. This is called an Air Pallet (manual) or Air Film Transporter (Power-drive system). Omni-directional movement can be performed on air bearings allowing the operator to maneuver heavy loads in any direction and position them with great accuracy.
Solving standard Air Pallets consist of four Air Bearing Elements, a platform and basic controls.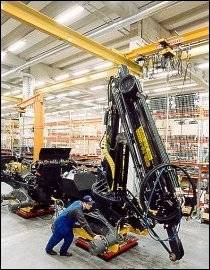 Contact: AMERICAN SOLVING INC
for custom heavy assembly transport solutions using Air Pallets.
---
AMERICAN SOLVING INC
6519 EASTLAND PLAZA • BROOK PARK, OHIO (USA) 44142
PH. 440-234-7373 • PH. 800-822-2285 • FAX 440-234-9112
e-mail: sales@solvinginc.com